Let's get serious about amping up your outdoor cooking chops. A good grill is an essential tool, not just as a backyard convening place for beer drinkers, but as a second oven. Online research or a trip to the big box store can be overwhelming with too many grills with too many options. Grills are not complex machines, but understanding what kind of food you want to create can help you get the best grill for the money. We're here to make simple work of finding the right grill for you from brands like Weber, Big Green Egg, and Green Mountain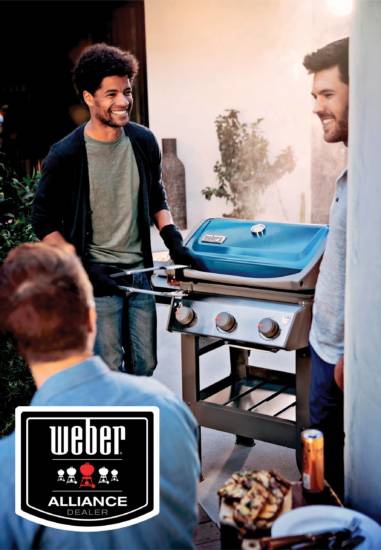 Every Weber gas barbecue features our patented cooking system that virtually eliminates flare-ups and offers ultimate heat control. Add all the little conveniences and safety features a grill owner could ever want, and you've got grilled flavor delivered hassle-free. Every time.
Weber Charcoal Grills deliver exceptional results every time, thanks to their design: curved premium-grade U.S. steel coated with porcelain enamel for even heating, years of dependable service, and plenty of kudos for the chef.
Leisure Times is one of only three certified Weber Alliance Dealer in south-central Illinois. Weber only gives this certification to companies who are dedicated to providing excellence in customer service and support. As a Weber Alliance Dealer, Leisure Times carries the deluxe line of Weber grills you can't buy from the national retail stores.
Other benefits of shopping at a Weber Alliance Dealer:
Expanded Product Assortment – Leisure Times carries a year-round assortment of the most popular Weber gas grills, charcoal grills, smokers, and accessories.
Expert Assistance – The Leisure Times staff is fully trained on the Weber brand and available to help you select the product that is right for you.
Assembly – We offer assembly of all Weber models.
Delivery – Leisure Times offers home delivery of assembled grills directly to your front door, back porch, deck, or patio.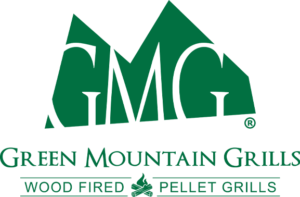 Come into Leisure Times today to learn about the Green Mountain Grill difference!
GMG offer dual fans – micro-adjusted variable-speed hopper and combustion fans and auger motor allow you to keep your grill and food at the temperature you set.
Our pellet grills offer massive space. The peaked lid design is perfect for large turkeys, stand-up chickens, meat hangers, and multi-level racks.
Standard features on the digital contol pad are:
Low Pellet Alarm – Lets you know when to add fuel
Hot Start Mode – In case of power failure or accidental turn-off
Food Probe – For safe temps
Temperature Control – 5º increments from 150-500°
End-of-Cook Fan Mode – Cools your grill down and exhaust most of the ash from the firebox for less frequent cleaning.
Trying to grill on the go? Use the GMG app to control & monitor grill and food temperatures, create and set cooking profiles that are fully customizable and programable for easy repetition, and set timers and receive alerts to help manage your cooks even better.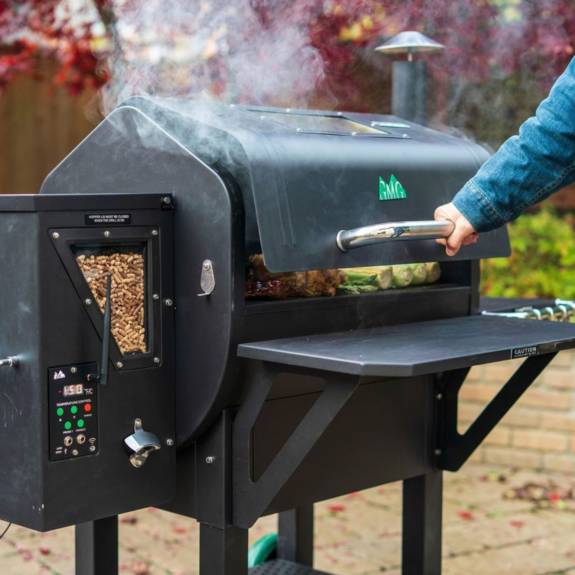 The rebirth of the ancient oriental Kamado cooker. The idea is 3000 years old but The Big Green Egg is NOW! The perfect smoker AND grill AND barbecue. Meats, fish, veggies, pizza—all done to perfection.
The Big Green Egg ceramics experts have created what some call "The Ultimate Smoker"—a beautiful and practical marriage of time proven cooking methods and modern technology.
For the highest quality, kiln fired ceramic cooker available, accept no substitute, insist on the original, Big Green Egg. They've been doing business in the same location since 1974.
Are you are ready for a Napoleon grill? Napoleon takes the art of grilling to a higher level. Every feature, every material is engineered to give an ultimate performance so you can create unforgettable meals and memorable moments.
Napoleon grills offer a wide range of styles and options, including stand-alone and built-in ranges, LED Spectrum NIGHT LIGHT™ Control Knobs with SafetyGlow, infrared rotisseries, and side burners, integrated ice buckets for marinating or your beverages of choice, integrated wood chip smoker trays, ACCU-PROBE™ temperature gauge, plus available lifetime bumper-to-bumper warranties on select models.
Just like you, we aren't some rookie behind the grill. Napoleon is a family-owned company with over 20 passionate years of grill-marked excellence. Every great meal starts with the best ingredients. Start yours with the best grill out there: Napoleon.